Swipe to the left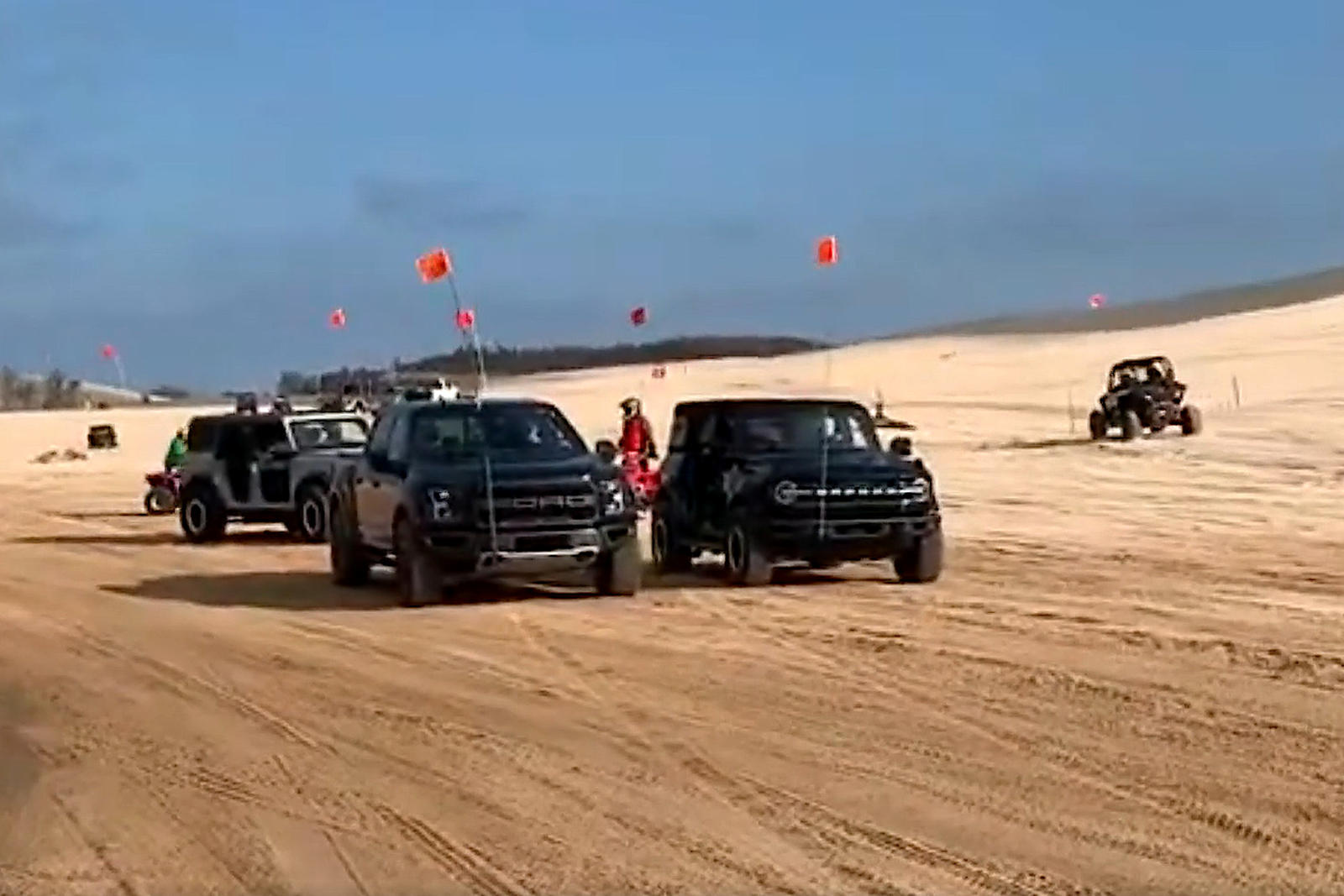 10 hours ago by Aaron Brzozowski
Off-Road
It's a closer race than you might expect.
The 2021 Ford Bronco is no F-150 Raptor. At best, it delivers a 310-horsepower punch with 400 lb-ft of torque, courtesy of a twin-turbocharged 2.7L EcoBoost paired with a ten-speed automatic - a far cry from the Raptor's 450 horsepower and 510 lb-ft with the same ten-speed slushbox.
You might expect, then, that a drag race between the two would be over before it even started, the Ford F-150 Raptor pulling away without so much as breaking a sweat. That might be the case on dry pavement, but off-road, where both vehicles are in their element, traction is harder to find, leading to the outcome seen here.
As you can see in the video, the F-150 Raptor still wins - no surprises there. But what is a surprise is how well the new Ford Bronco keeps up with the 450-hp supertruck, nearly keeping pace with it throughout the race. That's some impressive performance from a whole lot less displacement.
Even more impressive: according to the description on the YouTube page for this video, this Bronco is running with the 2.3L EcoBoost four-cylinder - not the 2.7L V6. We're inclined to believe it, too, as to date, we've seen no reports of any encounters with 2.7L-equipped pre-production Broncos in the wild.
The 2021 Ford Bronco is a dream come true for countless off-roading enthusiasts, who have been asking Ford to deliver an all-new Bronco ever since the last one ended production more than two decades ago.
The rugged body-on-frame SUV was revealed earlier this year to much acclaim, and as of last month, Ford had reportedly already amassed nearly 200,000 reservations, of which the top-spec Wildtrak model accounted for more than a quarter. That's the model that comes with the Bronco Sasquatch Package's 35-inch mud-terrain tires, locking front and rear axles, high-clearance suspension, and Bilstein dampers as standard, along with a standard 2.7L V6.
Of course, with a new 2021 Ford F-150 rolling out as we speak, there will soon be an all-new F-150 Raptor to talk about, and rumor has it the off-road supertruck will inherit the GT500's supercharged V8 to better keep up with the new Ram 1500 Rebel TRX. With that, we can probably look forward to a more one-sided rematch soon enough.